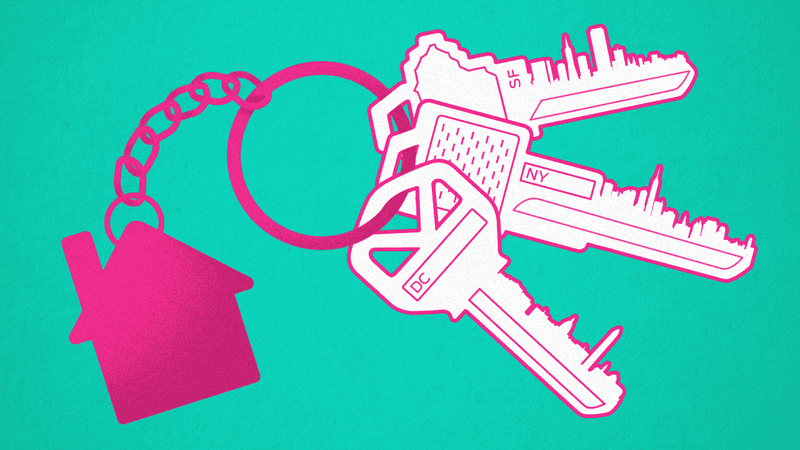 The grass is always greener on the other side of the fence. But who cares about grass? Or fences, for that matter? Most urban dwellers are more concerned about things like decent square footage, in-unit washer/dryers, and a reasonable rent. And no matter what city you live in, it somehow always feels like it would be easier to find what you're looking for somewhere else.

Of course, that's because wherever you live is the best. No matter what special challenges your hometown has to offer in the apartment-hunting process — not to mention what quirks, considerations, and surprises — the reason you live there is because it's worth it. Luckily, you're not totally on your own. Whenever you start to feel daunted, remember that Apartments.com is at the ready to aid you in your search.

San Francisco

Once upon a time, San Francisco had a reputation for its eccentric inhabitants. Then the internet happened, the techies descended, the rents went through the roof, and the kooks all moved to Oakland. Now San Francisco is more notorious for its exorbitant cost of living (currently the highest in the US) than for its counterculture. That doesn't mean you shouldn't live there — just that, when searching a San Francisco apartment that you can actually afford, you'll need more than a dream: you'll need to have some serious help at your fingertips.
Chicago

Are you looking to spend half of your mornings standing outside in frigid temperatures trying to dig your car out from under an avalanche of snow? If so, have fun with that! But if not, you'll want to pay special attention to the parking situation in your future abode. Finding a place with dedicated indoor parking will keep your car happy, your fingers toasty, and will make your life infinitely better.

Washington, DC

Because DC is such a small city, plenty of people choose to live in the close-in Maryland and Virginia suburbs — but Maryland, Virginia, and DC-proper all have extremely different personalities, and which one you choose to live in can end up defining you almost as much as the ever-important question of which congressman you work for. So before beginning the search for a DC apartment, you must first stare into your soul and ask yourself: who am I? If the answer is "a bee-keeper who hates nuclear weapons," Maryland's crunchy Takoma Park neighborhood might just be for you. On the other hand, if you see yourself in a sparkling glass skyscraper surrounded by other young, urban professionals — and don't mind the occasional midnight stroll over the bridge — Northern Virginia will suit your needs. Of course, if you want to be able to walk everywhere while staying in the thick of things, it's probably best to stick to DC itself. Luckily, whichever you pick, Apartments.com will help you find the place that fits.

New York City

In New York, every square inch counts, and the most valuable Manhattan real estate of all is in the bathroom: many New Yorkers make do with bathrooms so small they have to suck in their stomachs in order to squeeze into the shower. So if you manage to track down a place with a decent powder area, jump on it before someone else does — nothing will improve your life faster than a space big enough for you to accompany your morning shower revue with the full range of dramatic hand gestures and dance moves.

Los Angeles

In LA, you'd better like your neighborhood, because the traffic means you'll be spending a lot of time there. (When setting off to visit a friend across town, many Los Angelenos report a sense of dread akin to what Lewis and Clark must have felt staring up at the Rockies.) Before you choose an LA apartment, do your research: make sure it's in a neighborhood that's livable, that fits your personality and lifestyle, and is near enough to all the things that matter — friends, work, a good burger place — that you won't have to spend your entire life in your car. You can also use Apartments.com's very cool "plan commute" feature, which allows you to limit your search for a home to areas in which the commute won't destroy your life.

While every city has its real estate drawbacks, you know you wouldn't live there if you didn't love it. So buck up, remind yourself exactly why you moved there in the first place, and take heart in the fact that, with Apartments.com, you'll be able to take on even the most daunting search with ninja-like grace and ferocity. With Apartments.com, you'll be able to narrow your search, focus on the things that matter most to you, and painlessly find a place to call home — no matter where that home is.
This post is a sponsored collaboration between Apartments.com and Studio@Gawker.